Consultancy - Film, game and media enquiries
We offer a wide variety of consultancy services for video game, film and TV production companies. This can range from independent projects to Hollywood blockbusters. Of course, we recognise that each project is unique with its own individual requirements and we invite you to discuss these with us and how we can work together.
We can give advice on a variety  of areas to ensure your production is as authentic as possible. From the weapons used on the battle field to patterns worn on a soldiers uniform.
As experts of arms and armour, we value realistic and authentic representation. We would be happy to provide the relevant expertise and knowledge to ensure technical, historical and audio-visual accuracy.
Our collection, including the National Firearms Centre, has over 75,000 objects and combined with our facilities and our experts, provides a unique single resource.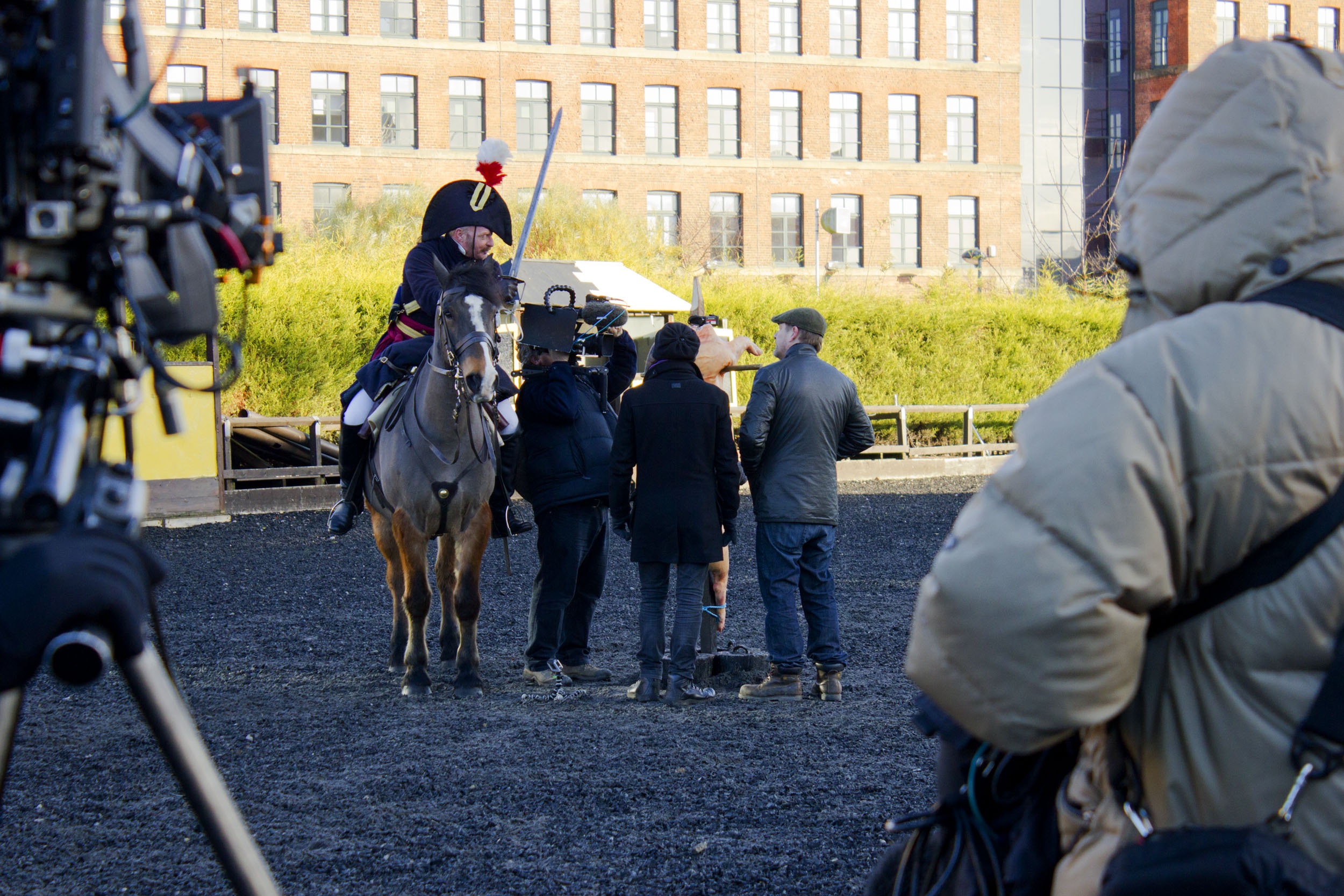 Behind the scenes photograph from the filming of 'Sean Bean on Waterloo' for the History channel, at the Royal Armouries Leeds 12/12/2014
Our services include
Access to items for 3D-scanning.
Access to items for audio and video recording.
Provision of media (images, audio and video).
Expert information and editorial input from curators specialising in firearms, edged weapons, armour and artillery.
Handling and training sessions.
Consultancy for set and costume design.
Previous projects
Our relationship with the media, video game, and movie industry is an old one. Production companies and designers have often turned to us for advice and guidance on the accurate representation of arms and armour seen in many films, video games and television. Some highlights include:
Films
Peterloo (2018)
Clash of the Titans (2010)
Robin Hood (2010)
Kingdom of Heaven (2005)
Rob Roy (1995)
Braveheart (1995)
Hamlet (1990)
Video Games
Sniper Elite 4 by Rebellion Developments (2017)
Sniper Elite III by Rebellion Developments (2014)
Mad Max by Avalanche Studios (2015)
TV and Radio
Sword, Musket & Machine Gun: Episodes 2 & 3 (2017) (BBC 4)
Restoring Britain's Landmarks (2017) (Channel 4)
Forbidden History with Jamie Theakston (2016) (Yesterday)
The One Show (2015) (BBC 1)
Sean Bean's Waterloo (2015) (History Channel)
Richard III: The New Evidence (2014) (Channel 4)
Richard III: The Unseen Story (2013) (Channel 4)
Richard III: The King in the Car Park (2013) (Channel 4) – winner of the 'History' category at the 2014
Print and Online
The New York Times
The Sun
The Daily Mail
BBC News online
Locations for filming
Filming is available at all three of our sites, Leeds, Fort Nelson and the Tower of London.
Contact us
Please contact the licensing team below to discuss consultancy options.
Licensing Team
Royal Armouries Museum
LEEDS
LS10 1LT
licensing@armouries.org.uk
+44 (0) 113 220 1981